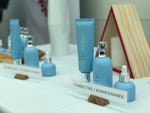 September's Member of the Month is the new SACC-CO member Scandic Beauty. We have reached out to Deb Uhrberg, owner of the company, to find out more about them and their products. 


What makes your company Swedish?


Our co-founder, Anders, was born and raised in Sweden. He was born in Stockholm, but spent most of his time growing up in Linkoping. He completed mandatory military service at A1, Linkoping and obtained his first Master's degree in Uppsala (Teknisk Fysik/Engineering Physics).



Where did your idea for this company come from, and how did it get started?
Anders originally envisioned this company in 2007. He worked in the medical device industry his entire corporate career, but always had the entrepreneurial gene. Because of Anders' Swedish heritage and his high esteem for Swedish quality and performance, he wanted to bring a truly exceptional, Swedish skincare line to the US. Life got in the way, and he had to put the idea on the shelf for the time being.

After meeting Deb in 2014, he shared the idea with her, and she became excited about it. They quit their jobs to realize the vision. Scandic Beauty, Inc. was created. After 1 ½ years of development collaboration with a third-party skincare contract lab, including extensive testing and human trials, the first products were ready for the public. Scandic Beauty launched commercially in January 2018.

What background and experience do you have that has helped develop and launch this company?
The owner, Deb, is an experienced Emergency Room Registered Nurse. Her in-depth understanding of the human body and medical care, along with a curious, analytical mind, is a tremendous benefit for Scandic Beauty. Her medical experience provides an invaluable knowledge of ingredients and the science of skincare.

Anders extensive experience with developing, qualifying, manufacturing, and launching medical devices has been equally essential to take the skincare products from concept to commercial product. Surprisingly, the similarities between the product development process for medical devices and premium skincare products are many. Because of his background, it was important to find a state-of-the-art contract facility to develop and manufacture the products. The facility was carefully selected, and is FDA compliant, cGMP compliant, ISO 22716 and ISO Class 8 Clean Room certified. A similar selection process was used for the other suppliers of components and services.

What is special about your skincare line?
What sets us apart is the quality and effectiveness of our products. Every ingredient has a beneficial purpose and is carefully selected, making each product highly effective, yet gentle. We combine the amazing benefits of Scandinavian botanicals with the latest in skincare science (including vitamin derivatives, botanical stem cells, amino acids, and peptides).

Every product is highly potent, resulting in quick results, which continue to restore the skin to optimal health and appearance. Unlike so many skincare companies, which have a lot of fillers and harmful ingredients (many which are not declared), we have gone to great lengths to only put beneficial, active ingredients in our products. We do NOT have petroleum derivatives, parabens, phthalates, sulfates, or SLS's.

Also, of note, we do NOT conduct animal testing. We ARE vegan and gluten-free.