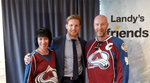 My husband Anders and I created Scändic Beauty with the mission to bring truly exceptional, performance-based Swedish skincare to the US. Our approach to realize our vision has been driven by our core values: a focus on healthy skin, protecting our planet and giving back to our community.
Clean Skincare Products without Harmful Ingredients
Born and raised in Sweden, Anders grew up surrounded by the abundance of nature—including many resilient and robust botanicals unique to the extreme Scandinavian climate. His high esteem for Swedish quality paired with his culturally characteristic drive for minimalistic efficiency gave him the idea to start a skincare line that would nourish skin and reset it back to its healthiest, most ideal state.
My background as a Registered Nurse has helped guide our formulation process. My experiences in the medical field have taught me what the body wants and needs, along with what it doesn't. That's why our products only contain biocompatible ingredients that skin can recognize, accept and process. We do NOT use any harmful fillers, petroleum derivatives, parabens, phthalates, sulfates or SLS's. Every ingredient has been carefully selected for its own beneficial purpose—making each product highly effective and non-irritating. Our approach and commitment to clean skincare means combining high quality, natural Scandinavian ingredients with the latest in skincare science to deliver long-lasting and radiant results.
Protecting the Planet
If we want to harness Mother Nature's soothing and healing botanicals for our products, it doesn't make sense for us to unnecessarily harm the planet in the process. We are committed to reducing waste and using only recyclable materials for our packaging. Our serums come in glass bottles and everything else in recyclable BPA-free plastic. Our lab is cGMP compliant—meaning it complies with the FDA's Current Good Manufacturing Practice regulations. Such regulations ensure products are safe for use and meet all ingredient and strength claims. Needless to say we have zero tolerance for animal testing, so you can rest assured our products are cruelty-free—and also vegan-friendly and gluten-free.
Sustainable Partnerships
We are only as strong as the people we surround ourselves with. When Anders and I founded Scändic Beauty, we knew that giving back to our community would be a top priority for both of us. We offered our support to Friends, a Swedish anti-bullying program that has an office in Colorado. A percentage of sales made through their website is donated to their incredible worthwhile cause and initiatives to educate students, parents, coaches and teachers in working to prevent bullying, harassment and acts of intimidation.
Our vision and values are reflected in our clean and sustainable skincare products. We want our customers to not only look their best, but feel their best in knowing that their beauty habits and skincare routine can actually have a positive impact on the world we live in.