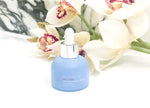 Our skin is mostly comprised of collagen—a protein that gives it strength, smoothness and elasticity. But, as we age, our skin produces less collagen and becomes thinner and dehydrated, causing it to sag and form wrinkles. Other factors, such as UV damage, pollution and stress can further speed up the aging process. Introducing peptides into your natural skincare routine can dramatically help to slow down the process and can even reverse the signs of aging.
What are Peptides?
Peptides are short-chain amino acids, which are the building blocks of the large collagen helix structure. In other words, peptides are fragments of collagen that have the ability to act as a messenger to stimulate collagen growth.
Peptides in Skincare
Peptides in skincare can be categorized as signals, carriers and muscle-relaxers (think Botox®). The signal peptides notify the body to produce more collagen, which increases skin firmness and hydration. It is natural for collagen to break down as we get older, but peptides in skincare can trick our skin into thinking it's lost more and therefore needs to produce more. The carrier peptides help to stabilize certain enzymes which in turn increases collagen and elastin production.
Ung
Our natural Scandinavian beauty products blend the powers of botanicals with modern skincare science to deliver high-performing and safe results. Ung / Young Line Smoothing Serum contains the following four extremely potent peptides and some testers have noticed almost immediate firming of their skin after their first application.
Dipeptide Diaminobutyroyl Benzylamide Diacetate
This peptide inhibits nerve signals—smoothing deep lines and wrinkles by relaxing muscle contractions. This mimics the peptide found in snake venom, which can achieve a Botox®-like effect.
Palmitoyl Tripeptide 5
This is a signal peptide that mimics collagen and tricks the body into thinking it's losing protein and needs to produce more.
Palmitoyl Dipeptide 5
We use two types of Palmitoyl Dipeptide 5 in Ung—a carrier peptide that improves structural integrity and nourishment of the cells. This super potent chemical compound can lead to improved skin tone, firmness and reduces the appearance of wrinkles.
Tetradecyl Aminobutyroylvalylaminobutyric Urea Trifluoroacetate
A tripeptide that helps to increase hyaluronic acid content and improve the quality and strength of collagen. This helps to improve the firmness of skin and stop it from sagging.
Soothing Botanicals and Performance Actives
Ung is a supercharged lightweight serum that penetrates the skin barrier to deliver the high-volume polypeptide formula. "Every ingredient has a beneficial purpose and is carefully selected," notes Deb Uhrberg, Scändic Beauty founder, "Making each product highly effective, yet gentle."
Our formula combines our advanced polypeptide blend with natural Scandinavian ingredients to nourish skin back to health. Chamomile soothes and calms and Sandalwood has skin smoothing benefits. Lavender helps to repair and tone and Orange Peel Oil is rich in Vitamin C and gently exfoliates to reveal a healthy complexion.
Our commitment and care to high-quality ingredients and clinical results is what sets us apart—or what we refer to as our Scandinavian difference!
Restore Firm Revitalize